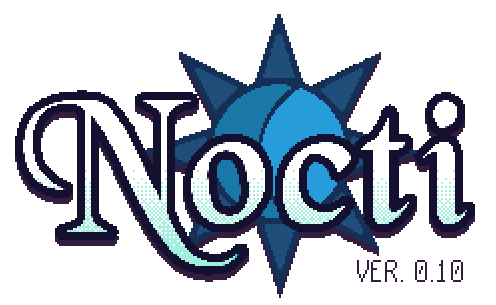 Nocti
I've been working hard on version 0.2 for the past few months. It's still not ready, but it'll be coming out sometime this year. There might also be version 0.3 coming out this year or early next year as well.

My idea is to have version 0.1- 0.8 be for adding each orb and the areas associated with it, version 0.9 for adding miscellanious content and version 1.0 being polish and finishing every loose end. It probably won't stay like that but that's the plan for now.
Looking at my outline there's going to be at least 18-20 worlds, and so far I have 7 of those worlds finished (besides some small extra details and updates) and 2 of them in progress. So we've still got a long way to go.
The current area I'm working on is taking longer than usual because of ~reasons~ that should be clear when it's fully implemented into the game.

I'm also in the process of sprucing up some of the older areas just a touch, so keep your eyes peeled for those changes when the next version comes out!
Thanks a bunch for following the development of Nocti! I'll see you next time. :)